FoOT Shelter Upgrade Project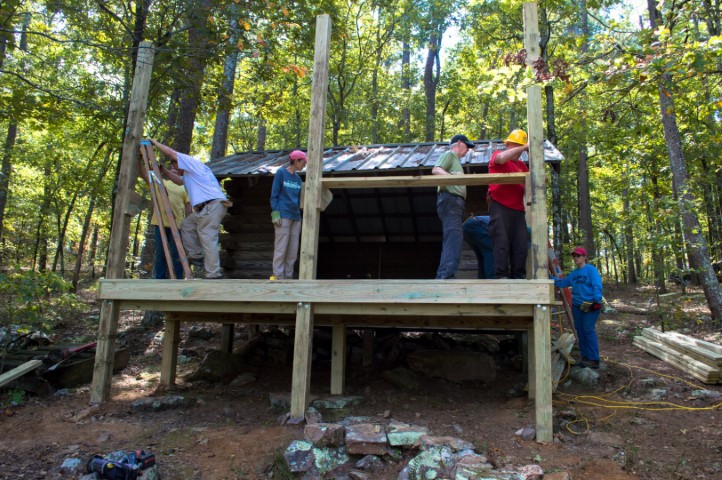 After the final new shelter on the OT was completed in 2016 with the addition of the Suck Mountain Shelter, FoOT turned its attention to upgrading the 9 old shelters on the east end of the OT. These shelters are over 25 years old.
In June of 2018, FoOT did an upgrade to the Oak Mountain Shelter as a pilot project. The upgrade added a 10'X16' covered deck along with shelves and benches. A new picnic table was also installed. The effort was also an Eagle Scout Project for Nolan McKee. Nolan did an excellent job coordinating the work effort.
In late 2019, FoOT received a Recreational Trail Program grant to upgrade the remaining 8 shelters. Work was delayed in 2020 by the Corona virus, but in the fall 4 shelters were upgraded. In October, the Potter and Archer Shelters were done followed in November with the upgrade of Big Branch and Moonshine Shelters. The remaining 4 are scheduled for March of 2021. Big Bear and Blue Mountain Shelters are to be upgraded the first week of March followed by Brown Creek and Nancy Mountain Shelters the 4th week of March.
After Nancy Mountain is done the OT will have a shelter system of 21 shelters, with 12 being new and 9 being remodeled. This is a major accomplishment by FoOT volunteers and a major improvement to the Ouachita Trail.
New OT Shelter Project Completed November 11, 2016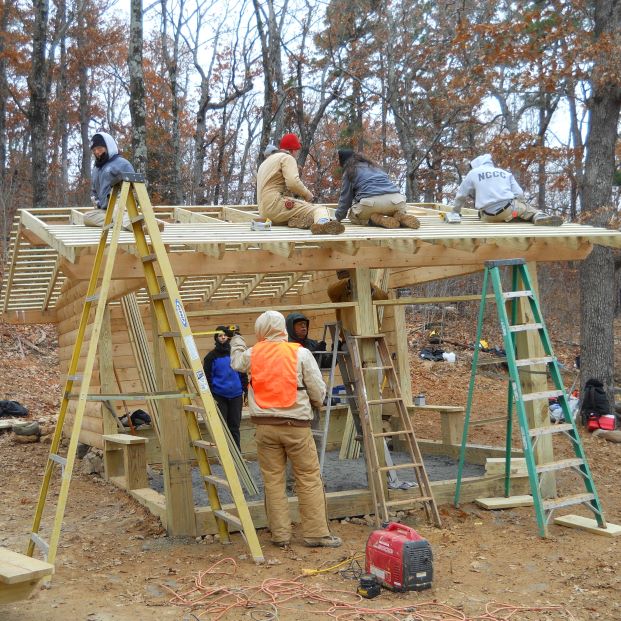 On November 11, 2016 FoOT completed its twelfth and final shelter on Suck Mountain. The shelters built by FoOT on the west end of the Ouachita Trail, along with the existing nine shelters on the east side of the OT create a shelter system covering all of the trail in the Ouachita National Forest. Beginning with the completion of the first shelter at Foran Gap in March of 2013, the construction phase lasted just under four years. Actual planning for the project dated back ten years, with final approval to move forward with construction in the fall of 2012.
You will find the new shelters from mile marker zero in Oklahoma to Highway 27 just north of Story, Arkansas. They cover approximately 120 miles of the OT. The existing shelters go east from there to Highway 9.
More than 4300 volunteers hours were donate with over 36,000 miles driven to make the OT shelter system a reality. In addition, Ouachita Forest employees gave hundreds of additional hours prepping the sites and getting material delivered. FoOT was also assisted by an Ameri-Corp team for the Rock Garden and Holson Valley Shelters. They gave 500-plus hours to the project. A Texas Conservation crew gave 3 days of work on the Story Creek and Turner Gap shelters.
FoOT is proud of the outstanding volunteer team that has made this enhancement to the Ouachita Trail possible. Hard work was done in sometimes harsh conditions, but the effort was always there. Not one accident of note happened during the entire building process – an accomplishment everyone is thankful for. This did not just happen; an effort was made early on to focus on safety.
Friends of the Ouachita Trail trusts that trail users will find the new shelters a great addition to the OT. FoOT would ask everyone to enjoy but assist us in keeping our shelters clean and in good shape.
New OT TRAIL SHELTERS Presented in Mile Marker (MM) Order
ROCK GARDEN – MM 9.4 N34 46.387 / W94 51.799 Completed November 2013
After the Holson Valley adventure (see below), and a 2-3 day break, the FoOT team and the Americorps Team started the Rock Garden shelter. It presented its own challenges. The site was 3 miles off Holson Valley Road on a single track dirt road with a very steep climb the last 3/10 of a mile. Wet & cold weather made the work site and access a muddy mess. The work team completed the shelter at 2 pm Sunday afternoon but before all the equipment was off the mountain, heavy sleet blanketed the area.
A big thanks to each volunteer. We appreciate Sarah Jones coordinating the Americorps Team. Norm Brumm continues his excellent work as our construction lead. On the Rock Garden, we would like to thank Ron Mayfield for bringing his 4 wheel drive tractor to deliver material to and from the work site. If you could see the steep grade and mud, you could appreciate how important that was.
HOLSON VALLEY VISTA – MM 16.8 N34 44.799 / W94 46.076 Completed November 2013
This fourth new shelter was completed November 17, 2013 with the help of an Americorps Team. We could not have done it without them since we had to manually prep the site and then haul all the materials and tools down a 120 foot bluff! Thanks to all the youngsters! Decent weather.
WINDING STAIRS SHELTER – MM 25 N34 42.561 / W94 40.645 Completed April 2013
This second new shelter was completed April 20, 2013. It is located at the old fire tower site near mile marker 25. Perfect weather!
PASHUBBE SHELTER – MM 34 N34 39.745 / W94 36.252 Completed June 2014
Our third new shelter was completed June 21, 2014. Just as Foran Gap had been cold, this build out was extremely hot. Plans are to not schedule a new shelter build in the early summer again!
STATELINE SHELTER – MM 46.4 N34 41.572 / W94 27.119 Completed October 2014
FoOT's seventh shelter is now complete. Volunteers completed the State Line shelter the first week of October. Dodged a big storm. Excellent landscaping work. First shelter with larger sleeping deck. Great view to the south.
BLACK FORK MOUNTAIN SHELTER – 57.8 N34 41.437 / W94 18.624 Completed November 2015
FoOT completed its 9th shelter, November 10, 2015. Beautiful location up the Black Fork Mtn. Trail about 200 yards. Volunteer team was able to complete the project in 3 days, not counting the material delivery day. Ouachita Trail close to having a completed shelter system in the Ouachita National Forest.
FORAN GAP SHELTER – MM 68.9 N34 41.181 / W94 10.472 Completed March 2013
The first new shelter was completed March 4, 2013. It is located just east of the Hwy 71-Foran Gap trail head. The shelter was dedicated to Arthur Paul Cowley, a former Public Information Officer of the Ouachita National Forest. From 1965 to 1979, he was instrumental in developing the trail, which included trail planning, coordination and construction. Art retired from the Forest Service in 1988 and passed away in 2010. His family donated funds to build the shelter in honor of his time and effort on our trail.
We almost froze!
TURNER GAP SHELTER – MM 79.9 N34 40.584 / W94 00.713 Completed September 2016
Turner Gap Shelter – Completed Sept. 30, 2016.
BRUSHY CREEK SHELTER – MM 90.6 N34 40.124 / W93 51.396 Completed May 2015
This shelter was completed May 2,2015. Faces south so should be a beautiful view after leaff-off.
FIDDLER CREEK SHELTER – MM 100.9 N34 41.523 / W93 43.315 Completed March 2014
This shelter was completed March 29, 2014. Great site overlooking Fiddler Creek.
SUCK MOUNTAIN SHELTER – MM 108.6 N34 43.463 / W93 37.721 Completed November 2016
At noon on Friday, November 11, 2016, FoOT volunteers completed the 12th and final new shelter on Suck Mountain. This brought to a close an effort that began with the completion of the first new shelter at Foran Gap in March of 2013. What an amazing accomplishment by an amazing group of volunteers!
STORY CREEK SHELTER – MM 116.7 N34 43.643 / W93 32.376 Completed October 2016
Story Creek Shelter – Completed Oct. 21, 2016.
Existing OT TRAIL SHELTERS
The nine existing shelters are all in the area between Highway 27 and Highway 9:
John Archer Shelter at MM 122.6
Bill Potter Shelter at MM 127.5
Big Branch Shelter at MM 134.0
Blue Mountain Shelter at MM 143.2
Big Bear Shelter at MM 150.8
Moonshine Shelter at MM 158.4
Oak Mountain Shelter at MM 167.4
Brown Creek Shelter at MM 182.5
Nancy Mountain Shelter at MM 189.5
These nine shelters average 7.4 miles apart. The largest gap of 15.1 miles is due to the Flatside Wilderness.
A note on water sources: One 'complaint' concerning the existing shelters has been the lack of water sources nearby. Dependable water sources away from major roads are scarce on the OT as a whole. The new shelter sites were chosen for proper spacing and ability to deliver materials for construction. Water sources were used where possible. CLICK HERE for more information on water sources along the OT.