Friends of the Ouachita Trail president Bo Lea welcomes you to FoOTnotes! This page contains news of interest to FoOT volunteers and supporters. The "semi-occasional" entries on the page are designed to bring you up-to-date on the events and projects in which FoOT is currently engaged. A lot is happening with FoOT and we are excited about its future!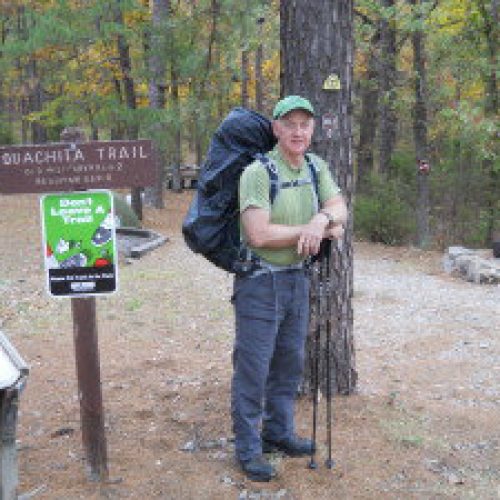 Forest Service Proposes Open Pit Mining Operation Next to the OT
January 7, 2019
The Forest Service is proposing to allow a 21 acre open pit quartz mining operation next to the Ouachita Trail. The comment period will end January 25, 2019. Comments should be sent to Mena District Ranger Tim Oosterhous at comments-southern-ouachita-mena-oden@fs.fed.us and copy Andrew McCormick, Mena Ranger District, 1603 Hwy. 71 North, Mena, Ar. 71953 or email him at andrewtmccormick@fs.fed.us.
CLICK HERE to view the Environmental Assessment for the project with maps showing the location as well as the Ouachita National Recreational Trail. The Ouachita Trail is not mentioned in the EA, on one map it shows just a 150′ buffer from the project. Apparently the OT was given little or no consideration in their assessment. The mine would also be just down the hill from the Hwy. 27 OT Trailhead.
The project file can be found at https://www.fs.usda.gov/project/?project=55086. You will see the scoping doc. as well as the EA that is already attached. Please read the documents.
You would think a mining operation of this type next to a National Recreational Trail would be a non-starter. Friends of the Ouachita Trail strongly opposes what is known as the Barber Quartz Prospecting Plan. The plan calls for the removal of vegetation and top soil plus the construction of a high fence. You should note the other negative issues in the EA. After these negative environmental actions are done next to the OT then the mining begins. FoOT does not oppose the proper management of the forest resources but this is truly not one of them. With 1.3 million acres in the Ouachita National Forest is this the only 21 acres available.
Please take the time to let the Forest Service know this is not acceptable.
FoOT appreciates your interest and support. Please share this information with others that should be aware of the risk to the OT.
Thanks!!!
Bo Lea
FoOT President
501-622-8809
Bolea66@Gmail.com
CLICK HERE to view FoOT's Response to this proposal.